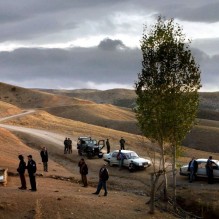 Nuri Bilge Ceylan has long established himself a director with his finger on the pulse of modern day Turkey. His latest contribution,  Bir Zamanlar Anadolu'da (Once Upon a Time in Anatolia), which took the Jury's Grand Prize at Cannes, is a visually engaging and memorable piece of cinematography, which stands out on its own as a unique addition to Turkish cinema.
The story follows a small convoy that includes a doctor, a prosecutor and a police chief, travelling through the night along with a murderer to uncover a body; supposedly buried somewhere near a water fountain in rural Anatolia. The killer's memory is hazy however, much to the aggravation of the police chief, who struggles to contain his temper as the unlikely cavalcade journeys from fountain to fountain, discovering more about themselves than the murder itself.
While the script is layered, funny and engaging, few directors attempt to do so much between lines of dialogue as Ceylan has done in what is no doubt, an exceptionally beautiful piece of film making. Some critics have poured scorn on the fact that much of the film is shot in extremely low light conditions. The truth though, is that Ceylan finds clever ways to illuminate the darkness. The audience is never found squinting at the screen to see what is happening, quite the contrary. Instead, we are treated to gorgeous lantern-like scene lighting, drawing us closer to the Anatolian landscape. As one critic puts it; Ceylan rolls out a "brocaded cinematic carpet" for our enjoyment.
Some audiences will continue to find Ceylan's deliberate slow pacing a problem. In fact, at times it feels like we have moved through the film, almost in real time through the night, but that is perhaps the point. We are forced us work our way patiently to the film's conclusion. How else shall we connect with the characters' weariness, frustration and disillusionment?
Ceylan attempts to capture those silent moments where the characters' minds drift uncontrollably to faraway places. You know those blackouts you have when you're washing the dishes or—in this film's case—performing an autopsy? You find yourself staring out the window for an incalculable amount of time, only to be finally stirred back to the real world, unsure even of what you've just dreamt about. How much of our life is spent in these moments, and how often, if ever, have film makers attempted to capture/recreate them?
Fans of the director won't be disappointed in the least and for those unfamiliar with his work, the film has so much to offer: beautiful cinematography and camera-work, an excellent performance all round from the cast—especially Yilmaz Erdoğan as the police chief—and an insight into rural Turkish life and values that only Nuri Bilge Ceylan can deliver.